Regular price
$114.00 USD
Regular price
Sale price
$114.00 USD
Unit price
per
Sale
Sold out
Share
Description

Embark on a celestial odyssey through the captivating "Celestial Odyssey" collection and delve into the mesmerizing realm of the Cassiopeia constellation. This art piece breathes new life into a vintage depiction of Cassiopeia, seamlessly blending vintage aesthetics with bohemian charm. Immerse yourself in the intricate details of this celestial queen, gracefully adorning the night sky. The artwork's warm earthy tones and delicate illustrations evoke a timeless allure, inviting you to explore the tales of regality, beauty, and cosmic myth that intertwine with Cassiopeia. Allow this celestial queen to guide you on a cosmic journey, igniting your own sense of wonder and connection to the celestial wonders that paint the tapestry of the universe.


Immerse yourself in the captivating realm of "Celestial Odyssey," a mesmerizing canvas art collection that beckons you to embark on a celestial journey through time and space. These reimagined vintage constellation and zodiac star maps breathe new life into the mysteries of the cosmos. With a whimsical fusion of historical narratives and captivating imagery, this collection invites you to explore the profound history of the stars.

This canvas wall art weaves a tale as old as time, guiding you through the enchanting narratives of ancient astronomers and their awe-inspiring discoveries. Transcending the boundaries of the past, this vibrant and evocative piece transports you to a world where imagination reigns and the beauty of the universe unfolds.

Meticulously handcrafted on high quality canvas and printed with archival grade eco-friendly inks, this classic transitional wall art ensures vibrant and lasting reproduction. The canvas is neatly stretched and gallery wrapped around a 1.5" deep wooden frame, offering a clean, modern presentation. The timeless charm and versatile aesthetic of this piece make it a perfect fit for a variety of home decor styles, from rustic to modern, boho to traditional.

Available in an array of sizes, from small to extra large, this canvas wall art caters to a variety of spaces. The vertical format provides flexibility for tall narrow spaces as well as large walls requiring an arresting statement piece. Let the magic unfold as you embrace the wonders of the cosmos and invite the timeless beauty of the celestial realm into your life.
Product Specifications

• Kiln dried wood stretcher bars ensure the frame will not warp or bow over time
• Thick, archival grade, poly-cotton blend canvas provides great durability
• ph neutral and acid free for years of enjoyment without fading
• 1.5" frame depth
• Ready to hang with pre-installed hardware
• Lightweight - large sizes can easily be hung by one person
• Eco-friendly and sustainable
View full details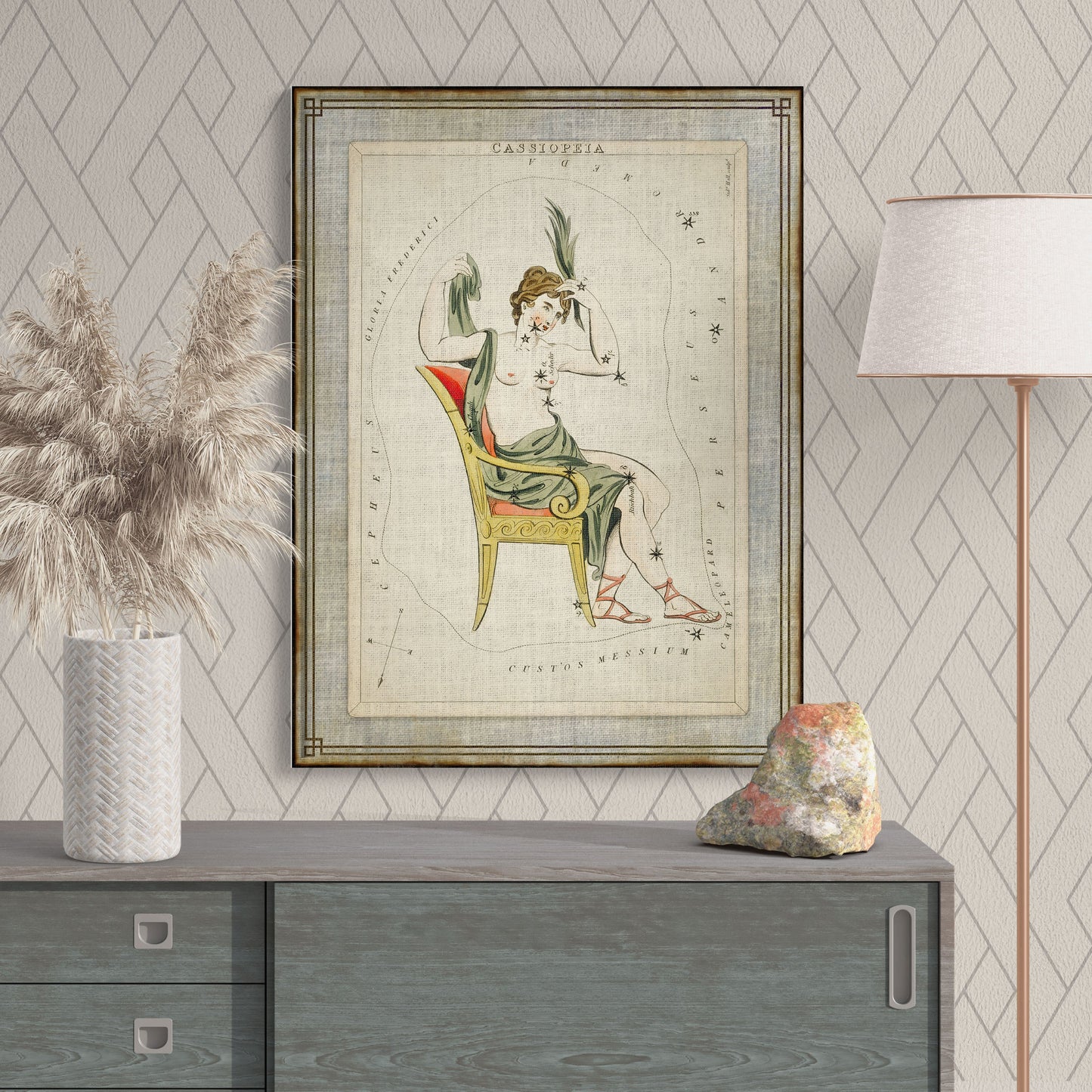 FREE Shipping

Enjoy free shipping on this item. Every piece is made to order and will ship in 10-12 business days.

Simple Returns

You can return items in the original packaging within 30 days of your purchase. Receipt or proof of purchase required.